Abdul Rahman, Azra Syariena (2015) Work-related Musculoskeletal Disorders among radiographers in Malacca Hospital / Azra Syariena Abdul Rahman. Degree thesis, Universiti Teknologi MARA, Selangor, Puncak Alam Campus.
Download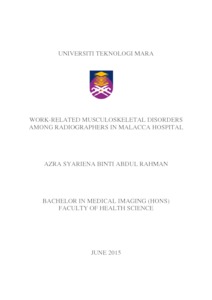 Preview
Text




TD_AZRA SYARIENA ABDUL RAHMAN HS B 15_5.pdf


Download (229kB) | Preview
Abstract
Purpose: The objective of this investigation was to investigate the trends of musculoskeletal disorders among radiographers in Malacca Hospital.
Methodology: The study was an observation study on 40 radiographers during working hours and assessed by using established REBA assessment. In REBA assessment, the neck, trunk, legs, upper arms, lower arms and wrist are the target to assess risk of musculoskeletal disorders among radiographers. Besides that, the job posture also been observed to relate with high risk of MSDs. The level of risk MSD are divided into no risk, medium risk, high risk
and very high risk. Demographics data were collected such as gender, age, length of employment, level of education and hours of work per week to investigate the relationship
with MSDs.
Results: The descriptive analysis showed that majority of the radiographers have high risk of MSDs. According to gender, male radiographers showed highest risk MSDs compared to female radiographers. The common site risk of MSDs are lower arm, trunk and neck. While the younger radiographer in the group of below 30 years old also demonstrated high risk of MSDs. The longer radiographers worked the higher risk radiographer developed MSDs.
Radiographers who worked more than 41 hours per week are tend to get MSDs easier and faster. On the other hand, the level of education of diploma holders showed that high risk of MSDs too.
Conclusions: This study can concluded that the lower arm, trunk and neck site of high risk MSDs are experiencing may be a result of radiographers low awareness in MSDs in the
correct and ergonomics techniques in patient handling.
Metadata
Fulltext
Fulltext is available at:
UNSPECIFIED
ID Number
22281
Indexing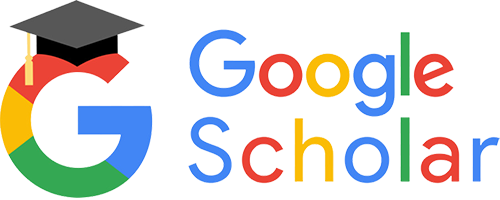 View in Google Scholar