Mahmud, Umi Safinaz (2015) Knowledge, attitude and practice towards halal vaccine products among the public in the Klang district / Umi Safinaz Mahmud. Masters thesis, Universiti Teknologi MARA.
Download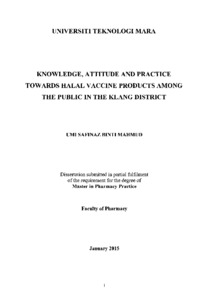 Preview
Text




TM_UMI SAFINAZ MAHMUD PH B 15_5.pdf


Download (7MB) | Preview
Abstract
The expanding Muslim population has in turn increased awareness of the Muslim community regarding vaccines and their sources. Muslim consumers are increasingly more conscious and frequently use the social media to search for information on halal vaccines. This study was designed as questionnaire based a cross-sectional analysis and aimed to assess the knowledge, attitude and practice towards halal vaccine products among public. A validated questionnaire was distributed to the public via paper-based self-administrated survey in the Klang district. A total of 389 Muslims, having age 18 years old or above and able to read and understand Malay or English language was included. Results revealed that the public had a good level of knowledge and practice and positive level of attitude about halal vaccine products, was 74.8%, 61.4%, and 52.7% respectively. Mean knowledge, attitude and practice score was 8.48 ±1.58, 39.90± 3.94 and 23.59 ± 8.51 out of maximum possible 10, 45 and 45 respectively. There was a significant, positive, and poor correlation (0.01-0.25) between knowledge and attitude (r=0.196, p<0.001) practice and attitude (r=.0.233, p<0.001) and fair positive correlation (0.26-0.50) between knowledge and practice (r=0.255, p<0.001). The p value of 0.05 or less was taken as statistically significant. Gender (p=0.019) and education level (p=0.017) were significantly associated with the level of knowledge towards vaccine and halal concept and education level (p<0.001) only was significantly associated with the level of attitude. However, all socio-demographic characteristics were not significantly association with the level of practice on usage and status of halal vaccine (p>0.05). From the results also found that female respondents being 4.4 times more to have good level of knowledge compared to male respondents (OR=4.35, 95% CI:2.15-8.78)(p<0.001). Besides that, both respondents who are education level from primary school or no formal education and from secondary school have decreased odd positive attitude compared to college or university level, by 83% (OR=0.17, 95% CI:0.05- 0.53)(p=0.002) and 69% (OR=0.31, 95% CI:0.19-0.52)(p<0.001) respectively. Administration and regulations existing on halal concept collaborated together between government departments should be strengthened and expanded, especially regarding vaccine products. This can help increase the understanding and confidence to the public in issues regarding halal vaccine.
Metadata
Fulltext
Fulltext is available at:
UNSPECIFIED
ID Number
21867
Indexing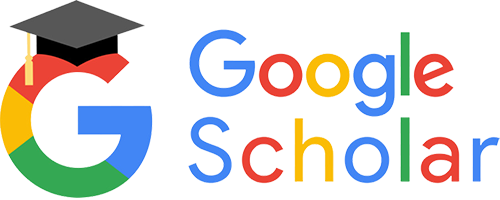 View in Google Scholar