Mohd Ismail, Mohd Iszrole Al Halmy (2017) Secondary school students riding motorcycles to schools in Kajang without driving licenses: legal perspective and enforcement of the Road Transport Act 1987 / Mohd Iszrole Al Halmy Mohd Ismail. Masters thesis, Universiti Teknologi MARA.
Download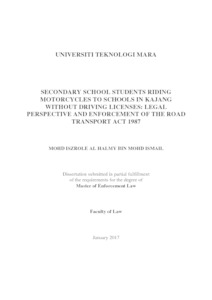 Preview
Text




TM_MOHD ISZROLE AL HALMY MOHD ISMAIL LW 17_5.pdf


Download (323kB) | Preview
Abstract
The act of secondary school students riding motorcycles without license in Kajang is an offense under the Road Transport Act 1987 (RTA 1987). Nowadays, public transportations like school buses are no longer an option for parents and secondary school students to use as a mode of transportation to schools. Hence, without a power or authority for the schools and school principals under the RTA 1987, it is difficult to curb the issue of the secondary school students riding motorcycles without license to schools. On the view of literature study, it shows that parents who do not have time to send and pick up their children from school tend to allow their children to ride motorcycles to schools. This has formed an easy way out to resolve transportation issues for the said students and parents. However, least have they realised the implications of such acts upon their children and other road users since these students are not trained to drive on road and are emotional while driving due to their age factor. The fact that this is practiced widely despite Malaysia having set of laws regulating traffic rules is shocking. Despite driving without license being rendered as an offence under the Malaysian Road Transport Act 1987 (RTA 1987), students are seen riding motorcycles freely on roads without licences in both urban and rural areas. The fact that they do not possess driving license shows that they are ignorant of the traffic rules. This is obviously dangerous to themselves and other road users. The seriousness of this issue is evident from the fatal accident casualties on road that involved adolescents without driving license. Hence, this research examines and analyses the causes and implications of such acts by the students and necessary reformations that need to be done to curb this issue and to avoid the existing Malaysian law on traffic rules rendered redundant.
Metadata
Fulltext
Fulltext is available at:
UNSPECIFIED
ID Number
21645
Indexing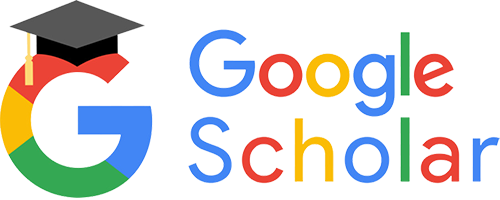 View in Google Scholar