Abd Wahab, Mohamad Razali (2016) The performance measures of supply chain management for infrastructure project / Mohamad Razali Abd Wahab. Masters thesis, Universiti Teknologi MARA.
Download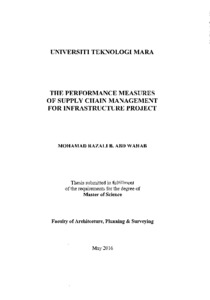 Preview
Text




TM_MOHAMAD RAZALI ABD WAHAB AP 16_5.pdf


Download (6MB) | Preview
Abstract
The contribution of infrastructure to the development of country mainly Malaysia
cannot be refused and this encourages the government to provide an established
infrastructure facility. However, the problem facing by most of infrastructure project
in term of management aspects such as management conflict and unsatisfied output
becomes an obstacle to fulfill the government strategy. Thus a comprehensive
management tool such as SCM is required as it is functioning as an overall
management process to monitor and control all such logistic activities. Unfortunately,
in reality, there was an issue to improve performance of supply chain due to lack of
comprehensive view of SCM concept and lack of reliable measure to evaluate the
process and operations of the supply chain. Thus, to overcome these issues, this
research had designated an objective as follows 1) establish the most relevant
indicator for performance measure of SCM through conceptual design 2) establish
relevance indicators for performance measurement of supply chain through the
perception of key players in infrastructure project 3) generate performance
measurement framework of SCM in infrastructure project. The first approach of this
research through conceptual design which involved literature review and expertise
justification had identified six (6) performance indicators that were information
dissemination, management, leadership, relationship development, customer
management, activity sequences and green supply chain. This performance indicator
had been used as the main reference to create the questionnaire. A total of 1000
survey form that consists of 50 questions had been sent randomly to key players of the
Malaysian infrastructure project, namely implementer, client, consultant, and
contractor/supplier. After 8 month period, about 225 forms had been received. The
statistical analysis that's been used to form, verify and test the reliability of this
questionnaire had identified five (5) performance indicators that were information
dissemination, management leadership, relationship development, customer
management and activities sequences. Besides that, this research had applied
performance measurement framework of supply chain based on modification of
SCOR model with performance measurement concept as a main reference. Hence,
this framework that generated by 39 base measures at Level 2 (process category),
clustered into 11 derived measures at Level 1 (process type) to form 5 performance
indicator at main criteria could be used to evaluate, improve and control the
performance of supply chain and as a reference for the key players to develop detailed
guidelines that suit with the organization field or environment.
Metadata
Fulltext
Fulltext is available at:
UNSPECIFIED
ID Number
18172
Indexing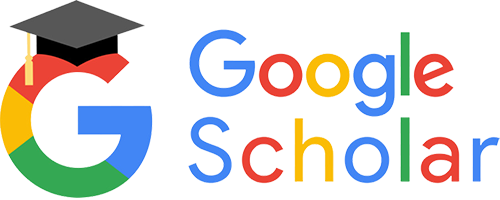 View in Google Scholar